Film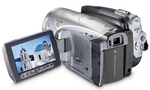 Canon HV20
Image courtesy the internet.
I've always had a latent interest in film, but I actually started pursuing it probably in my junior year of high school.
At the end of that year, I started looking for cameras and finally settled on one that I bought that summer, the Canon HV20, one of the earliest "prosumer" affordable High Definition cameras.
Then in my senior year, I helped plan and run a film festival (FilmFest 08) that ended up being quite popular!
Some of the films never made it, but I put as many as possible on the FilmFest 08 website.
As I create more, I'll add to this page.
Also, it's worth noting that my usual partner in crimefilm, mainly before college, is David Newson, whose name will be a magicklink somewhere if he ever gets a website.